Colin Cowherd Says Jon Gruden Needs to Stop Pandering to Antonio Brown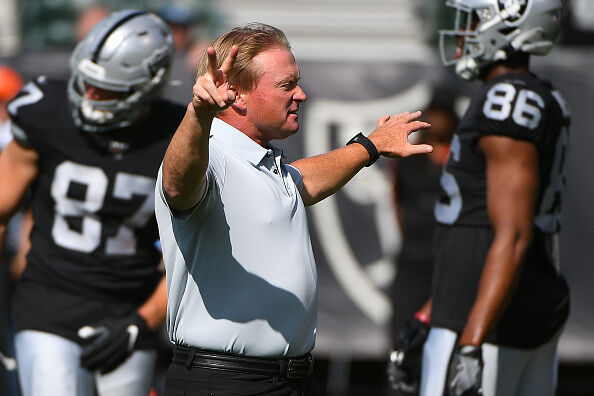 Colin Cowherd:

"How frustrating would it be to have a 31-year-old veteran NFL star and have to constantly pander to him? If I was Jon Gruden I would be embarrassed and worn out. Gruden is always gassing up Antonio Brown and telling him how great he is; he's not a 17-year-old wide receiver recruit from Midland, Texas, who you're trying to recruit to Purdue and ten other schools are offering him scholarships. Do you really have to pander to nine-year veterans? You can't trust him with his feet, you can't trust him with his helmet, and you have to constantly put your arm around him and pander to him. It's like babysitting."

(FULL AUDIO AT BOTTOM OF PAGE)
Listen to Colin Cowherd explain why he thinks it's pathetic how much Jon Gruden is now going out of his way to cater and pander to superstar wide receiver Antonio Brown, as the second-year head coach is clearly trying to appeal to a player who is obviously not all there.
Gruden has come to the defense of Brown the entire offseason, as the All-Pro continues to drag his feet through one of the most bizarre offseasons we've ever seen from one player. Gruden has been so loyal to a player he's never met that is almost seems he's forcing himself to suck up to one of the game's best players to keep the player on the field.
Check out the video below as Colin thinks this type of behavior from Gruden may be the type of conduct you see from a coach trying to lure a teenage recruit to their college, but not in the route of babysitting a 31-year-old man who has been in the league for nine years.

The Herd with Colin Cowherd
Want to know more about The Herd with Colin Cowherd? Get their official bio, social pages & articles on FOX Sports Radio!
Read more