Colin Cowherd Says Baker Mayfield Needs Better Guidance Around Him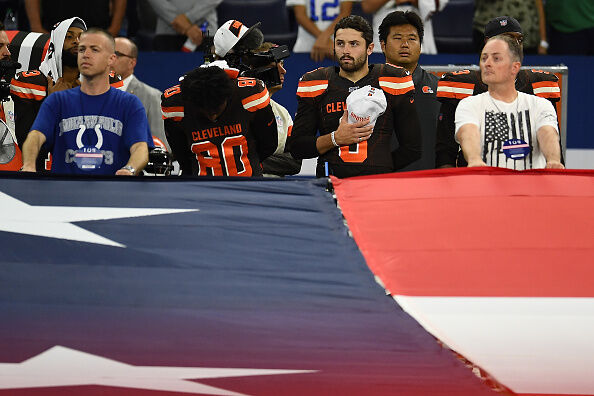 Colin Cowherd:

"Baker Mayfield keeps stepping in it and this is what concerns me… Baker is older than Patrick Mahomes, DeShaun Watson , and the same age as Jared Goff, and they're all in bigger cities and are bigger stars, and yet Baker keeps stepping in it… Young quarterbacks, like young kids sometimes make mistakes and they need guidance. Mahomes has legendary Andy Reid. Goff has the best young coach in football Sean McVay, Watson has Bill O'Brien, Lamar Jackson has a Super Bowl winning coach in John Harbaugh. Baker has who?? Freddie Kitchens, who has never even been hired as a coordinator? Who is his guidance? If all these quarterbacks threw a Christmas party and I said one of them will end up in the closet passed out who would you guess it would be? The OLD one… Isn't that kind of problem? At 24, I would expect more from Baker."

(FULL AUDIO AT BOTTOM OF PAGE)
Listen to Colin Cowherd explain why he believes Baker Mayfield needs better guidance around him in the NFL, as the budding star quarterback from the Cleveland Browns continues to make needless headlines.
Baker has spent his summer calling out teammates, shotgunning beer in public, and now bashing a fellow NFL quarterback… Colin says Baker may just be in his second year in the NFL but don't forget he was one of the oldest rookies from his class, and is older than Patrick Mahomes and Deshaun Watson, and the same age as Jared Goff. How many more rookie mistakes can a 24-year-old keep getting away with?
Colin is concerned that Mayfield might not be equipped with the right mentors around him that can keep him in check, as Mahomes has Andy Reid, Goff has Sean McCay, Watson has Bill O'Brien, and Lamar Jackson has John Harbaugh.
Check out the audio below as Colin doubts Freddie Kitchens being able to reel his young quarterback back in.

The Herd with Colin Cowherd
Want to know more about The Herd with Colin Cowherd? Get their official bio, social pages & articles on FOX Sports Radio!
Read more